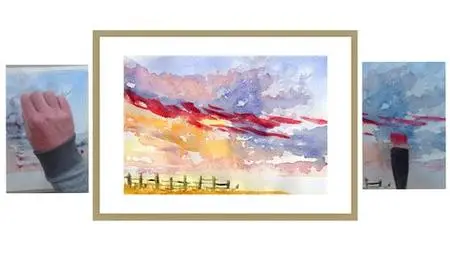 Relax painting watercolor FREE style with a HAKE brush #3
.MP4 | Video: 1280×720, 30 fps(r) | Audio: AAC, 44100 Hz, 2ch | 2.59 GB
Duration: 2 hours | Genre: eLearning | Language: English
Relax with your HAKE 3. Sunset scene. Create this FREE and easy watercolor using just your HAKE brush and just 7 colors.
By being limited to just the HAKE brush you will learn to paint watercolor with the same freedom you did as a child.
Relax with your HAKE 3. Sunset scene. Create this FREE and easy watercolor using just your HAKE brush and just 7 colors.
What you'll learn
By being limited to just the HAKE brush you will learn to paint watercolor with the same freedom you did as a child.
Using my limited palette of just 7 watercolors you will learn how these colors work together.
You will learn the importance of color and texture in your watercolor paintings.
How to mix bold colors on your page
Requirements
We use just one brush and just 7 colors,you can watch the free "tools required" video in the preview section.
Be prepared to leave all you have learned behind and start off with an open mind.
Description
Would you like to relax more and create free and easy watercolors?
The absolute beginner or the experienced artist can benefit from learning how to use just the HAKE brush and 7 colors to relax and enjoy the total freedom of simply applying colors and not worrying how the painting will finish up,like we all did as children!
By using just one brush it makes us limit the ambition of our paintings and it makes us "lighten up"
In this course we paint,step by step this scene (course pic) from near where I used to live.
This painting is not my best ever watercolor nor even close but,I didn't half enjoy painting it,the feeling of just applying washes of color and watching them dry into all sorts of textures is really what painting should be about.
When you have completed this course you can look through your own snaps and pick out your own pictures to do exactly the same thing with,remember though,don't be too fussy or worried about how it ends up,by learning to relax in your paintings your own unique style will eventually shine through.
See yo soon,David.
Art is such a beautiful way to express yourself and as a watercolor artist for over 30 years I can not urge you enough to give painting in watercolors a try,I never get bored with the effects of the colors on my paper,I still learn new techniques in my work every time I paint something,it is such a free and easy medium and it is well worth the time and effort you may invest.
To paint a watercolor picture is to escape into your own little world where nothing else matters and all your problems and worries can be forgotten, at least for a little while.
To give your own watercolor painting as a gift could not be more rewarding,I never get bored with the expression on the face of a friend or family member when I present them with an original watercolor painting which I have painted specially for them.
The medium of watercolor, for me, is the ultimate medium because even as a complete beginner you can achieve many effects using techniques which sometimes you are taught and sometimes you learn by complete accident which we call "happy accidents",such as when one color runs into another color and creates water marks or bleached paper,this is why sometimes I sit and watch the painting paint itself in front of my very eyes.
Of course now and then it does not work out as I wanted it to but all I have lost is a little bit of paint pigment,a piece of watercolor paper and a little time so I put that piece of paper to one side and start again!
Too many people have a go at painting with watercolors and think that they have to produce a perfect painting every time and they overwork the piece,desperate to get a finished painting to hang on their wall and of course they end up with a mess,get dispirited and give up announcing that they will never be an artist and so never paint again.
I would like to show these people the hundreds of watercolor paintings that didn't work out for me because without making mistakes you can't improve.I keep all my paintings good and bad and I look at the failures quite often,in these failed paintings there is quite often a part of the painting that I really like and I try to remember which technique,which colors I used,which brush made a particular mark on the paper so I can use these same techniques in my future watercolor paintings.
If I was stranded on a desert island,my watercolor kit would be the first thing I would wish for.
Who this course is for:
The absolute beginner will benefit from starting off with no prior knowledge and very little equipment.
The more experienced artist will benefit from the exercise of putting most of their equipment to one side and relaxing into this style.
The artist who has lost their confidence or their inspiration
DOWNLOAD
(Buy premium account for maximum speed and resuming ability)