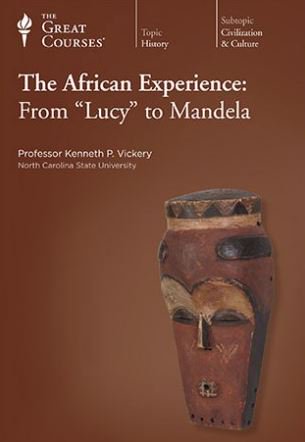 The African Experience: From "Lucy" to Mandela
MP4 | Video: 854×480 | Audio: AAC, 44.1Khz , 2ch | Duration: 18 hours | Language: English | 11.5 GB
The story of Africa is the oldest and most event-filled chronicle of human activity on the planet. These 36 half-hour lectures cover this great historical drama, tracing the story of the sub-Saharan region of the continent from the earliest evidence of human habitation to the latest challenges facing African nations in the 21 st century.
Full Description
For many, Africa is a confusing fog of names, words, and places: Mandela, Biko, Mobutu, Lumumba, Lucy, Selassie, Rhodes, Livingstone, Swahili, Bantu, Boer, Zulu, Mau Mau, Tutsi/Hutu, Lesotho, and Timbuktu, to name just a few.
These lectures are designed to lift the fog and sharpen your understanding of these terms, revealing Africa in all its complexity, grandeur, tragedy, and resilience. As the chronological narrative of this course unfolds, Africa's people, places, languages, and customs will come vividly to life, and you will be able to follow events in present-day Africa in their deep historical context.
Dispelling Myths about the "Lost" Continent
Sub-Saharan Africa-the primary focus of this course-is the region separated from North Africa by the harsh climate of the Sahara Desert, and it is traditionally the part of the continent that has been the most mysterious and most misunderstood by Westerners.
This huge expanse is also the academic specialty of award-winning teacher Kenneth Vickery of North Carolina State University. A Yale-trained historian, Professor Vickery has devoted his career to travel and research in sub-Saharan Africa with the goal of understanding this multifaceted region and teaching others about it-an objective that he brings with charm and a spirit of adventure to this course.
Part of his educational mission is to dispel the myths that still cling to Africa-for instance, that it is a landscape of dense jungle relieved only by stretches of wildlife-teeming savanna. Africa is three times the size of the United States and has impressive geographic variety, including some of the most stunning features on the planet-from spectacular Victoria Falls on the Zambezi River to the largest freestanding mountain in the world, Mount Kilimanjaro, which rises massively from the plains of Tanzania.
Professor Vickery corrects many other potential misunderstandings about Africa. For example:
The word "tribe" has no fixed meaning. By Western definition, it often conjures up images of primitivism and savagery. But in Africa it is used in a neutral way to connote ethnic identity and is usually, but not always, connected with language differences and the site of ancestral origin.
There is no single language called Bantu. There are instead 400 to 500 related languages that extend from Cameroon, the Congo, Kenya, and Uganda in the north to Nelson Mandela's Xhosa people, who are the southernmost Bantu speakers in today's South Africa.
Historically, sub-Saharan Africa was not as isolated as is often suggested by references to the "lost" continent. An ancient Greek sailing guide from 2,000 years ago clearly shows that the East African coast-called Azania by the Greeks-was already connected commercially with areas to the north.
The present borders of African states are surprisingly stable, considering that they were drawn up largely by colonial powers. The single instance of a legal, formal border change is the separation of Eritrea from Ethiopia in 1993.
Contrary to widespread popular impressions, there is scarcely an official one-party state or military government left in Africa. In places like Zambia, people and parties compete for power with a pluralistic and participatory spirit that was unthinkable in the recent past.
Africa and the World
The story of Africa is not just that of indigenous Africans dealing with home-grown problems. Many influences from the rest of the world have come to bear on the continent:
Most notoriously, roughly 10 million to 15 million Africans were transported to the New World as slaves, and many millions more either died in passage or were killed in the process of capture, with an incalculable effect on African demographics. Ironically, African states remained largely sovereign during the entire period of the slave trade, and some actively participated in it.
European settlers played a significant role in African history, initially founding posts for provisioning ships plying the Asia trade. Largely in southern Africa, these communities became beachheads for the gradual expansion of a permanent European presence that has many parallels to the European settlement of the Americas.
The seizure of Ethiopia in 1935 by Italian Fascist dictator Benito Mussolini led to a dramatic plea for help by Ethiopian Emperor Haile Selassie before the League of Nations. His rebuff by international leaders is considered a seminal moment leading to World War II.
During the Cold War, Africa served as a proxy battleground between Western and Soviet blocs, with tragic results foretold in the proverb: "When two elephants fight, it is the grass that suffers." A prime example is the Congo, where the newly independent state's radical leader, Patrice Lumumba, was assassinated in 1961 at the instigation of Western powers, plunging the nation into anarchy and eventual takeover by the brutal strongman Joseph Mobutu.
For thousands of years, Africa has been a linchpin in the world economy with much-desired commodities such as ivory, gold, diamonds, palm oil, petroleum, uranium, and, most recently, coltan, a crucial alloy used in cell phones and other electronics.
The arrival of newcomers in Africa has also been the occasion for mythmaking. Dr. Vickery notes that during the apartheid era in South Africa, the government's official history held that large areas of the country were an "empty land" before the arrival of European settlers in the 17th century. This tradition has been decisively refuted by archaeological evidence showing that indigenous farmers and herders spread across the region by the 11th century.
A more sophisticated misinterpretation of history is that the segregation practiced in South Africa and the American South was a throwback to a rustic, frontier past. One of Professor Vickery's mentors, the late John W. Cell, has made a persuasive case that segregation was an innovative, if brutal, response to urbanization and industrialization and that it represented the modernization of white supremacy.
A Personal Journey
"Over 30 years ago, I first visited Africa," recalls Professor Vickery in Lecture 1. "I took planes, trains, and automobiles; I hitchhiked and rode on the back of trucks carrying tons of fruit through parts of Kenya, Tanzania, Malawi, and Zambia.
"I got my first looks at Kilimanjaro and Victoria Falls," he continues. "The places I saw were a revelation. But even more of a revelation were the people I met, who seemed so different from the stereotypes I'd grown up with-people of generosity and humor, but also people living through and intertwined with dramas-family dramas, national dramas, and historical dramas. The stories I heard from old men and women convinced me that here was a place the history of which could become a life's work."
Though he himself is not African American, Professor Vickery has absorbed Africa into his very being; and he is earnest, insistent, and persuasive in conveying his love of the continent and his conviction that Africa repays endless study.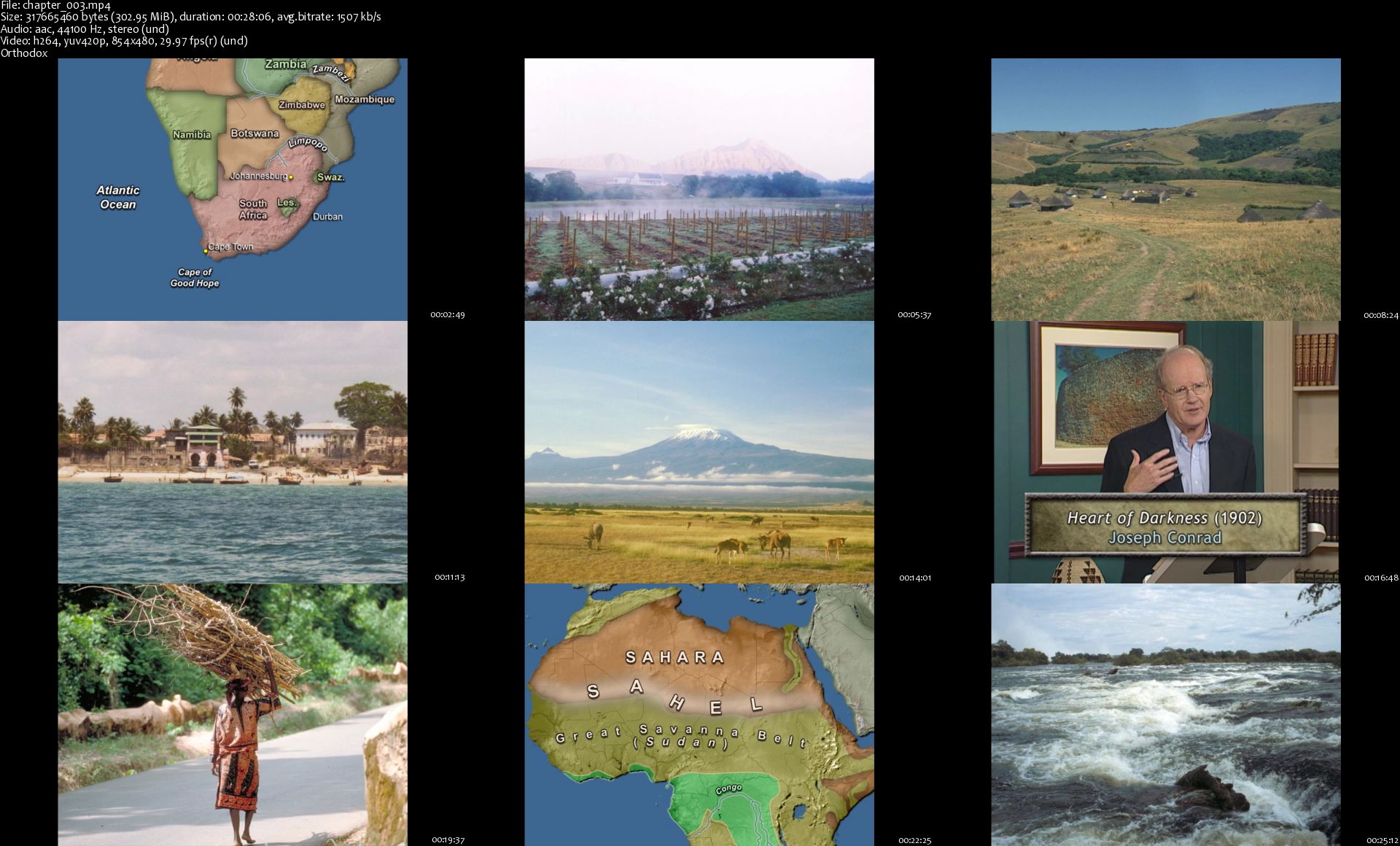 DOWNLOAD
(Buy premium account for maximum speed and resuming ability)